Neighborhood Stabilization Program
The Neighborhood Stabilization Program (NSP) was established through the Housing & Economic Recovery Act of 2008 in an effort to combat some of the challenges associated with a declining economy and escalating foreclosure rates. Alachua County was awarded funding under this program through the Florida Department of Community Affairs (DCA) to acquire & rehabilitate single family units in designated areas of the County.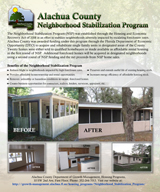 After successfully obligating $2.9 million dollars in the first round of NSP, Alachua County was invited to apply for the third round of NSP to continue acquiring and rehabilitating single family units in a HUD approved designated target area. Alachua County was awarded $1,029,844 from the State of Florida Department of Economic Opportunity to acquire and repair foreclosed homes in neighborhoods in northeastern Gainesville. See map for targeted area. Homes will either be sold to qualified homebuyers or utilized as affordable rental housing.
v 1.0.3.54