Accessory Dwelling Units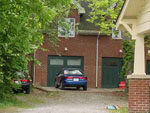 Accessory dwelling units (also known as accessory apartments, guest apartments, in-law apartments, family apartments or secondary units) provide supplementary housing that are integrated into existing single family neighborhoods to provide a lower priced housing alternative with no negative impact on the character of the neighborhood. Because the units are small, they are more affordable than full-size rentals.
Frequently Asked Questions
What are the benefits of Accessory Dwelling Units(ADU)?

Adding an ADU has many benefits to homeowners including giving them the ability to care for a family member and providing extra income by renting the ADU to both family members or non-family members. It also allows homeowners in need of at-home services, to offer low or rent free housing to those performing those services. The ALU provides a moderately priced rental option for low-income residents as well.

See Section 404.24 of the Land Development Code (ULDC) for more detailed information about Accessory Dwelling Units.

In what zoning districts are ADU's allowed?

One additional living unit is allowed accessory to the principal structure without counting toward gross residential density in the following residential zoning districts: RE, RE-1, R-1aa, R-1a, R-1b and R-1c in Estate Residential, Low Density, or Medium Density land use designations

One additional living unit may be allowed in the Agriculture (A) district if the density requirement can be met (10 or more acres=1 unit/5 acres)

Accessory units have no minimum size and may be a maximum of 50% of the gross square footage of the principal residence or 1000 SF, whichever is greater.

What standards must an Accessory Dwelling Unit meet?

See the urban or rural Accessory Dwelling Unit checklist for the specific application and site requirements. Generally the following site standards must be met:

Accessory Dwelling Units on less than five acres must be designed in a similar architectural style as the principal residence, and may be either attached to the principal structure or a separate detached building.
All Accessory Dwelling Units must meet the principal building setbacks of the zoning district in which they are located.
All Accessory Dwelling Units must have an additional parking space served by the same driveway as the principal residence.
On lots less than five acres, the entrance to any attached Accessory Dwelling Unit must be to the side or rear of the building, and any detached accessory living unit's entrance must be located behind the front building line of the principal residence.
If water and sewer is available, the Accessory Dwelling Unit must connect to the system of the principal residence - if it is not available, the well and septic must meet the requirements of Section 407.110 of the ULDC for residential lots and are encouraged to share the existing septic if allowed by the County Health Department.
If a property owner loses homestead exception status, the kitchen and other facilities for the separate residence must be removed.
v 1.0.3.181